Welcome to the Fairy Tale Giveaway Hop! This hop is hosted by
I Am A Reader Not A Writer
and
vvb32reads
. It runs from Thursday, April 26th through Tuesday, May 1st! Check out our interview with Juniper Berry author M.P. Kozlowsky below and then enter our Fairy Tale Giveaway!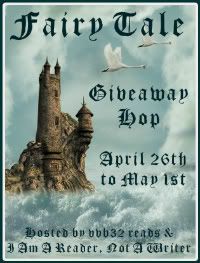 WaldenPondPress:
What makes a fairy tale, a fairy tale? Must there be a moral? Must fairy tales always be dark, or can they be comedic too?
M.P. Kozlowsky:
For me, fairy tales are all about tone. By reading the first few pages of a fairy tale, whether old or modern, or even just the first few sentences, it should be clear that a fairy tale is unraveling. They should be whimsical with a touch of darkness -- which is not to say they can't be comedic, too -- with a clear sense of good versus evil. Must there be a moral? I suppose not, but the stories are certainly more effective when they reveal one by the end; that is what gives the tale its weight.
Walden Pond Press:
What are some of your favorite fairy tales? Did any of them influence you while writing Juniper Berry?
M.P. Kozlowsky:
I always enjoyed the fairy tales that frightened me as a child. Rumpelstiltskin certainly did, as did Hansel and Gretel and the many fairy tales my grandfather told me as a child -- which I have developed into its own fairy tale. None of them, however, directly influenced the writing of Juniper Berry. I just set out to make a modern fairy tale, something with a clear moral and a strong female character that young girls could look up to. I had something I wanted to say and wished to get it out to the world in such a pure way as a fairy tale.
Walden Pond Press:
What makes fairy tales so appealing to both kid and adult readers?
M.P. Kozlowsky:
I think the best fairy tales appeal to both kids and adults and do not fade over time solely because they never pander to their audience -- those that do, that try to become something else, are quickly revealed as impostors and are promptly and justly disregarded. True fairly tales speak truths and in clear ways that reach deep within a person, young or old, and resonates there for many years to come.
Walden Pond Press:
When you set out to write Juniper Berry, did you ever conceive of it as a fairy tale?
M.P. Kozlowsky:
I definitely wanted Juniper Berry to have the feel of a fairy tale, that tone I talked about. Granted, I think the best fairy tales work better in smaller doses, like those of the brothers Grimm, just a few pages or so. It might be fun to create an anthology of modern fairy tales in this form, from some of the best writers today. The results could be very interesting.
Walden Pond Press:
What do you hope readers will take away from Juniper Berry?
M.P. Kozlowsky:
When someone finishes Juniper Berry I want them to believe that one of the most important ways that a person can define themselves is by doing what is true to them, by remaining steadfast in one's beliefs. To betray who one is at the core for foolish gain, in my opinion, is one of the worst possible decisions one could make. Nothing is worth that sacrifice, as Juniper and her family learned.
Win a copy of one of Walden Pond Press's three remarkable and very different fairy tales: Juniper Berry by M.P. Kozlowsky, The Hero's Guide to Saving Your Kingdom by Christopher Healy, and Breadcrumbs by Anne Ursu.
a Rafflecopter giveaway